We are again welcoming room booking requests,  for example band practices, meetings campaign workshops or other events. Many activities may be held in the garden, but can be inside if appropriate covid precautions are met. See also Sumac Centre news on facebook.

Vegan Cookery Workshop
Saturday February 13th, 2016 @ 10:00 am

-

4:00 pm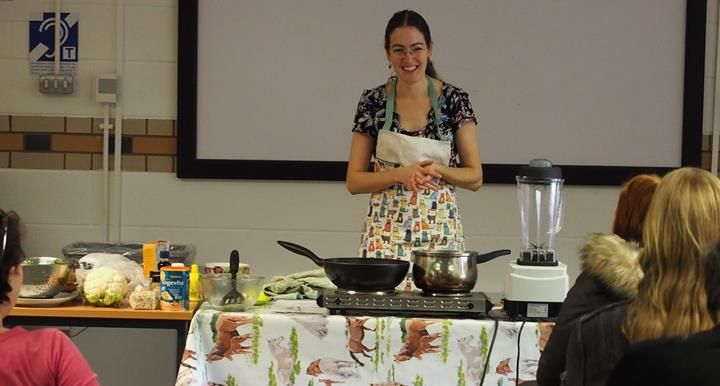 Do you want to help others go vegan? One of the best ways is to do cookery demos! Vegan food can be healthy, cheap, easy to make and delicious! The more people know HOW to cook vegan, the more they will 🙂
This is a free one-day training course by Jane Easton from Viva! (www.viva.org.uk) who has many year's experience of cookery demos to a live audience, and training others.
Aim of the course:
– teach you how to do a vegan cookery demo
– how to plan an effective demo (equipment, resources etc)
– give you the confidence to do cooking demos in public
– we will all get 'hands on' practice during the day!
We'll be based at the SUMAC centre, a social centre in Nottingham where all the food is vegan. After 4pm some of us are going climbing at a wall nearby, and at 7pm is the People's Kitchen, a weekly vegan meal fundraiser at the SUMAC, so why not stick around?
Doing cookery demos is great fun and great vegan outreach. You get to chat to the audience to share vegan cooking tips and ideas, and inspire people to go plant based. You dont have to be an expert, and it can be as easy as making a tasty fruit smoothie!
Why not give it a go?
Course is limited to 20 people maximum. Because of the popularity, and as we need to buy ingredients etc beforehand we are going to set up a deposit system. It's a £5 deposit to book, then you get this back on the day.
To book a place, check out the facebook event page here:
https://www.facebook.com/events/499108916943308/
and click "going", this reserves you a place.
To complete the booking, go to:
to pay the £5 deposit.
Sumac exists to provides resources and a meeting space for groups and individuals working to promote social justice, environmental awareness, peace, and animal rights.
You can donate here to support us, towards running costs, maintenance, heating bills etc.