How to use the Sumac Kitchen
On your first use of the kitchen you will need to read guidance on Food Hygiene Policies, Health & Safety and Fire Risk Assessment, as well as where things are & how things work.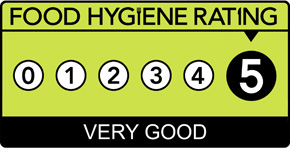 The Sumac Kitchen is a registered food premises. Inspections may take place at any time to update the 'Score on the Doors'. Each time the kitchen is used for an event the cook must follow the documentation and fill in the diary in the Safer food, better business folder.
There is a fire alarm sensor in the kitchen. If it activates the shutter will fall at the serving hatch, so try to keep it clear. If safe to do so, small fires may be tackled with the fire extinguisher or fire blanket – look to see where they are. Otherwise vacate the building and call 999.
Check that there is a First Aid Kit on the shelf above the hobs. If used fill in the Accident 'book' section in the Safer Food folder.
Read the Food Hygiene guidance in the Safer Food folder, with particular attention to hair / hands / apron / clean surfaces. Approved cleaning materials, including sanitising hand wash, sanitising surface cleaner & washing up liquid are from Veggies, in the basement.
At the start of your session find clean aprons, tea towels & hand towel at the top of the cellar stairs. Dirty laundry goes in bag by hand wash sink. Papet towels are also available.
Knives are stored in knife roll below the serving counter.
The oven below the hatch is electric. Switch on at wall and on the oven & set the temperature. Switch off at the wall when finished.
The back work surfaces cover the gas hobs. Ensure that the gas is turned off before closing the lids.
The Sumac Kitchen is fully vegan. Many basic food supplies, including teas, coffees & milks are available from Veggies Catering Campaign. Open milks are returned to the cellar fridge.
Washing up is generally left to air dry. You may need to clear away from the previous session, but anything you've used may be left to air dry after you have washed it. Please look to see where pots, plates, mugs etc are stored.
Separate Food waste for compost. There is a container outside the main door. Recycle as much as possible. Bins are in the lobby. Tetrapack are recycled separately.
When you have finished leave the kitchen clean: cooker / surfaces / washing up / drainer / bins, waste & compost / floor.
Now make yourself a cup of tea and sit down to read the Safer food, better business folder.
See also risk-assessment-health-safety-overview and How to Do People's Kitchen
To update this document find original at https://sumac.org.uk/get-involved/kitchen-users-guide/
I have read this induction and the Safer Food, Better Business folder.
Print name : _________________ : Signed : ____________________ : on : _____ / _____ / _____