We are again welcoming room booking requests,  for example campaign workshops, band practices, meetings, or other events. Many activities may be held in the garden, but can be inside if appropriate covid precautions are met. See also Sumac Centre news on facebook.

P4TH 8th Birthday Celebration
Saturday January 27th, 2018 @ 7:00 pm

-

11:00 pm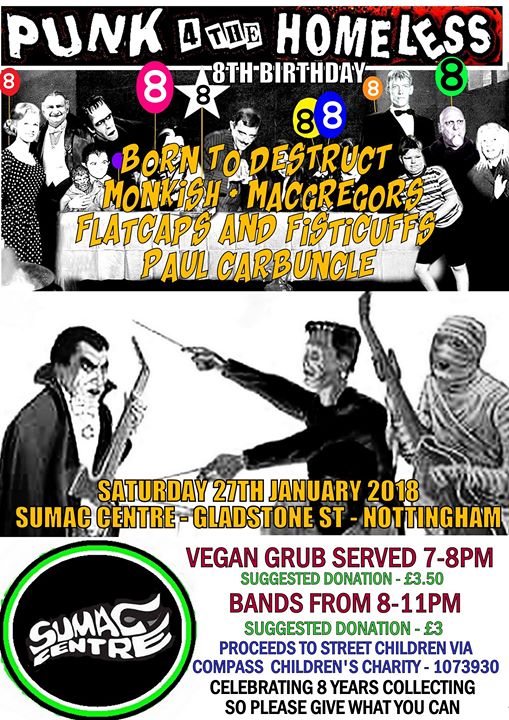 Yes thats right Punk for the Homeless has been raising money to help Street kids for 8 Years!!! in January, what an amazing achievement and a Great sum of money raised so far and that means, many, many Street kids lives saved, Lets make this one even bigger… and to help do just that P4TH have put together a line up to get your Party shoes moving and ya Party Pants Moist…
BORN TO DESTRUCT
https://www.facebook.com/borntodestruct
MONKISH
https://www.facebook.com/monkishpunk/
MACGREGORS
https://www.facebook.com/themacgregs/
FLATCAPS AND FISTIKUFFS
https://www.facebook.com/FlatcapsAndFisticuffs/
PAUL CARBUNCLE
https://www.facebook.com/paul.cullen.7906
SET TIMES AS FOLLOWS –
7.45 to 8.15 – Paul carbunkle
8.20 to 8.50 – Flatcaps and fisticuffs
9 to 9.30 – macgregors
945 to 10.15 – monkish
10.30 to 11 – Born to destruct
And all for a donation to the charity as usual there will be Vegan grub served before hand and a well stocked bar open and of course the legendary P4TH Raffle so Bands and Punters alike if you have anything that can be put in as a raffle prize please bring it along…last year I won a Zombie fish!!!
Sumac exists to provides resources and a meeting space for groups and individuals working to promote social justice, environmental awareness, peace, and animal rights.
You can donate here to support us, towards running costs, maintenance, heating bills etc.