We welcome room bookings for campaign workshops, band practices, meetings, fundraiser gigs or other events.
You should CLICK HERE  to follow the process for availability and terms.
See also Sumac Centre news on facebook.

Games Night at Forest Fields Social Club with Skills Exchange
Friday November 24th @ 7:00 pm

-

10:00 pm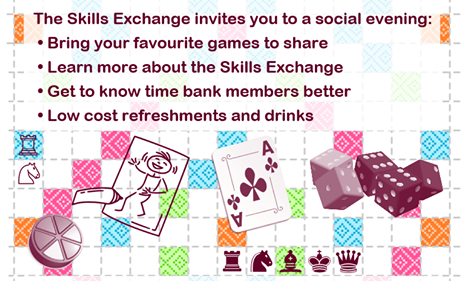 Game Night at Sumac on 2nd & last Friday of each month, with bar, 7-10pm.
https://twitter.com/veggiesnottm/status/1612177993681494018?t=PHwskNOsFnItYjcQIFx_RQ&s=19
Our Skills
Admin
Form filling, online or on paper
Letter writing
Typing documents etc.
Advice
Help with CVs
Help with Job Application
Life coaching
Astrology
Western astrological information and predictions
Chinese astrological information and predictions
Befriending and Counselling
Counselling
One off counselling session
Befriending by phone
If anyone is interested, Time Banking UK are setting up a national phone group called Talking Together, mainly aimed at older people who need company and find the phone the easiest way of communicating. Email us if you are interested.
Crafts
Card Making
E card making
Papier Mache
Origami
DIY
Any non-professional jobs such as general repairs, putting together flat pack furniture.
Painting and decorating
Mechanical and electrical repairs
Gardening
Grass strimming, hedge cutting, weeding, planting, digging, advice on garden design and planting and other skills on request.
Haircutting
A simple haircut for men and women
IT
General troubleshooting
Help with software problems such as clearing memory and organising files.
Help choosing and using new equipment
Help using the Time Online 2 site
Massage and body work
Intuitive massage, foot, back head and shoulders
Reiki
Walking Therapy
Gentle Breath Meditation
Gentle Healing Treatment
Mindfulness
Pets
Feeding cats and other pets when you are away
Lifts to the vets
Textiles
Clothing repair, including mending and patching jeans, shortening and lengthening trousers and skirts, altering clothes, darning socks and jumpers, repairing jumpers.
Knitting and crocheting new items such as hats and gloves.
Transport
Transporting items by car
Taking things to the tip
Lifts
You will need to pay for the fuel or claim from our fund.
Please email: skillsexchangeNG@gmail.com to enquire about joining the Skills Exchange and making exchanges.
Sumac exists to provides resources and a meeting space for groups and individuals working to promote social justice, environmental awareness, peace, and animal rights.
You can donate here to support us, towards running costs, maintenance, heating bills etc.